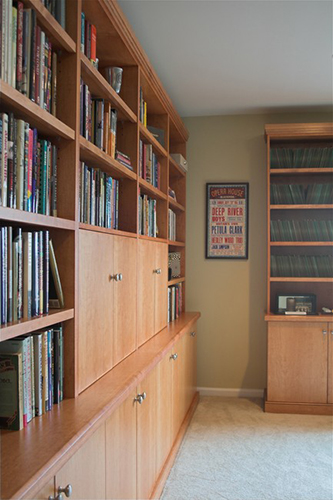 Ever wonder what we at Classic Urban Harmony do in our spare time when we're not researching and giving multimedia presentations, interviewing vocal group members, attending and reviewing concerts, booking acappella groups, putting up museum displays, writing articles, updating the website, issuing our newsletter and listening to records? Well, we read books about our music. Our library at the CUH World Headquarters has more than 500 books on topics from Spirituals to R&B to Doo Wop to Soul music. We recently donated more than 200+ books on Jazz to the Harlem Jazz Museum to make room for all the new books being published.
As fans of group harmony music we thought you'd like to know what books we're reading. Here we'll spotlight those books that have been interesting enough for us to purchase and read. We're not going to write lengthy reviews but we will give you an idea of what's in each book and the audience it hopes to reach – casual music history fan, serious researcher/historian, reference use only, etc. Book reviews are found below.
Due to popular demand, we'll soon be reviewing a few select DVD's and CD's but you'll have to click one of the buttons to go to those pages. [Nothing on these pages, yet.]
If you find you're interested in some of the things we review, you can usually click on the photo of the book or CD and be linked to Amazon where you can purchase it if you choose.
Classic Urban Harmony LLC is a participant in the Amazon Services LLC Associates Program, an affiliate advertising program designed to provide a means for sites to earn advertising fees by advertising and linking to Amazon.com. It helps pay for the cost of this website.
We'll be adding to this page frequently, so check back often.
"The There's That Beat! Guide to THE PHILLY SOUND, Philadelphia Soul Music and its R&B Roots From Gospel & Bandstand to TSOP," Dave Moore and Jason Thornton, Premium Publishing, Stockholm (2016).  9 X 11″ Hardback, 690 glossy pages, thousands of color label scans, photos.
We knew this book was coming.  We even assisted, in a small way, with some of the information in it.  But we never expected it to be this great!  There's That Beat! Guide to The Philly Sound, Philadelphia Soul Music and its R&B Roots:From Gospel & Bandstand to TSOP by Dave Moore and Jason Thornton (Stockholm: Premium Publishing, 2016) is the most comprehensive book ever published about Philadelphia soul music.  The 9″ X 11″ hardback book contains 690 glossy pages with thousands of color label scans and countless rare photos.  It's scope is unbelievable.  It's not just Philly soul music.  In order to fully understand the genre, Moore and Thornton had to set the stage with coverage of the music's roots, including Spirituals, Gospel, Jazz, Blues, R&B and Doo Wop.  It covers street corner doo wop singing, the originals of R&R, Bandstand, Payola, Cameo-Parkway Records, Philly's famous recording studios, Harthon Records, Philly disc jockeys, Philly radio, Arctic Records, TSOP and just about all the other Philly record labels.  There's even a section on Philly's vinyl used record stores.The book is superbly researched and well written.  This one is a MUST for soul music fans.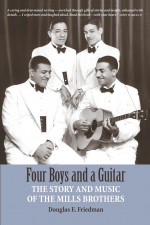 "Four Boys and a Guitar: The Story And Music of the Mills Brothers," Douglas E. Friedman, Harmony Songs Publications, West Long Branch, NJ (2016). Paperback, 379 pages including an extensive 150 page discography of over 2000 Mills Brothers recordings and over 140 rare photos.
Finally, the first ever book on one of the greatest vocal groups of all time, the Mills Brothers, has been written. FOUR BOYS AND A GUITAR by Douglas E. Friedman, is the only biography of this famous American singing group, and it was worth the wait!  If you love vocal harmony of any kind – R&B, Doo Wop, Acappella, Soul, Jazz or even Barbershop – this book is an absolute must!  Beginning in the mid-1920's, the Mills Brothers laid the groundwork for all these styles of quartet singing.  With over 70 Chart hits, the Mills Brothers dominated popular music for decades.  The book tells the group's story from the Mills family ancestors escaping slavery through the Underground Railroad in the 1830's and the brothers' humble beginnings in Piqua, Ohio to their rise to international stardom. Their radio career, their recordings, their movies, their tours of the U.K. – it's all in here.  The racial aspects of their story are also covered, especially as they mirrored the racial history of the country over the course of the group's career. The book is interspersed with short guest writings from people knowledgeable about the group including my (Charlie's) pieces about the importance of "Tiger Rag" and the Mills' grandfather's singing with a Jubilee group in the 1800's. But one of the most impressive parts of the book is the 150 page (small print) discography, including more than 2000 Mills Brothers recordings.
As a music historian as well as co-founder and former president of the Mills Brothers Society, I can truly say that this book is a vital contribution to the study of American popular music.  It is superbly researched and well written.  NOTE: Copies can be ordered directly from the author by going to www.millsbrothersbook.com. The book sells for $22.95 plus $3.50 postage.  100% of the profits from the sale of this book go to the Center for Holocaust, Human Rights & Genocide Education, Inc. and its programs designed to combat racism.
"Acappella, Living In The Shadows, 1963 – 1973: A Social History," Abraham J. Santiago, Harbinger Press, Glencoe IL, (2016). Paperback, 383 pages including extensive discography and many photos.
Acappella quartet singing has been a part of African American culture since slavery times. It led to the development of 1950's street corner doo wop singing.  But when these street corner groups went to record, record producers added instrumentation to make a more commercial sound.  Then in the early 1960's, a new genre arose, particularly in the Northeast Corridor of the United States between Boston and Philadelphia.  There, certain small independent record labels started recording and promoting these street corner groups, singing just acappella.  Author Abe Santiago uses the term, "The Hudson Sound," to describe the 1960's acappella singing, mainly by non-African American vocal groups, that was born on the banks of the Hudson River, where New York and New Jersey meet.  (Think… Five Jades, Savoys, Heartaches, Five Sharks, Chessmen, Royal Counts, etc.)  We'd not heard the term used before, maybe Santiago coined it, but it certainly fits.  Santiago, offers an intriguing look at how this "acappella sound" evolved  and matured through its first golden age (1963 – 1973).  Santiago was on the scene singing with the Concepts at the time.  He looks at the African American roots of the genre as well as contributions from Hispanic, Italian and Jewish neighborhoods.  This book covers the development of acappella in context with the social and cultural influences of the turbulent sixties.  As Santiago explains, acappella was never part of mainstream music.  It existed "in the shadows" of the larger entertainment scene.  Another section of the book tells the musical journeys of six prominent people involved with this music, written in their own words.  There's a large section of photos of groups and album covers and  a comprehensive discography of acappella recordings of that era.  Abe Santiago's latest book is an interesting and thought provoking read. It's a welcomed addition to our music library.
"Standing On Solid Ground: The Life And Times Of Sidney Barnes," Sidney Barnes & Tom Wight, BarVada Books, Leicester, NC (2012). Paperback, 523 pages including discography and some photos.
Sidney Barnes has had a remarkable career as a singer, arranger, producer and prolific song writer. Doo Wop and soul harmony fans know of his record with the Serenaders ("I'll Cry Tomorrow").  Rock & Soul fans (and most everyone else) know of Rotary Connection.  Northern Soul fans know Sidney as the writer and producer of many of that genre's classic recordings.  Over the years, Sidney's compositions have been recorded by Michael Jackson, Funkadelic, Rotary Connection, the Chiffons, the Shangri-Las, Minnie Riperton, Martha Reeves, B. B. King and many others.  I've always been a fan of Sidney's music and was anxious to read his autobiography.
As a music historian, I was reading with a mind to learn more about Sidney's music career. So it took me awhile to get through the first 90 or so pages dealing with his early life.  [Though I did find it interesting and I did enjoy Sidney's sense of humor when discussing the lack of indoor plumbing and Sidney's distaste for outhouses.]  But the last 400 pages gave me tremendous insight into Sidney's world of music and I now realize the attention to his humble beginnings was a necessary part of his story.  I must say, I thoroughly enjoyed this book.  This book is good reading for casual music fans as well as those with a deeper interest in popular and soul music.  Serious researchers will also find a lot of great information here.