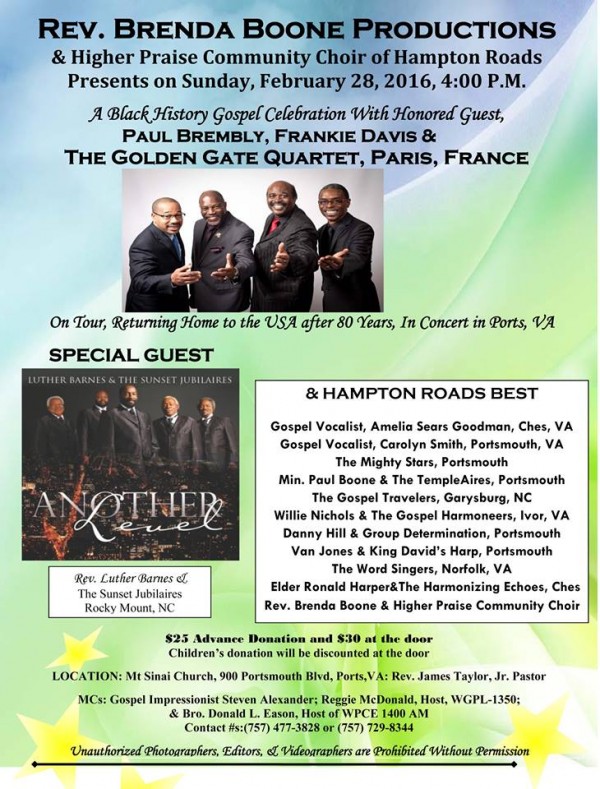 Rev. Brenda Boone Productions & Higher Praise Community Choir of Hampton Roads presents in concert, the Golden Gate Quartet, direct from Paris France, their first performance in their home city in almost 80 years. Plus, Luther Barnes & the Sunset Jubilaires, Van Jones & King David's Harp, the Gospel Travelers, Harmonizing Echoes, Templ-Aires, the Word Singers, Frankie Davis & the Mighty Stars, Danny Hill & Group Determination, Rev. Brenda Boone & the Higher Praise Community Choir and more.
The Golden Gate Quartet is the world's most recognized spiritual quartets and one of the most influential vocal groups of all time. The "Gates" celebrate their beginnings in 1934, though some reports have them singing even a couple years earlier.  But in 1934, two young singers from Norfolk, Virginia's Booker T. Washington High School, Willie Johnson and Henry Owens, teamed up with Norfolk barbershop owner A. C. Griffin and Robert "Peg" Ford to form the Golden Gate Quartet.  Though long-staying Gates members, Orlandus Wilson and Clyde Riddick, did not officially join the Gates until 1936 and 1940, respectfully, both performed with the group on a fill in basis in the mid-1930's.  Griffin left the Gates in 1935, being replaced by William Langford.  Orlandus Wilson officially replaced Ford in 1936.
By mid-1936, the Gates were touring the Carolinas and singing over local radio stations. They became so popular, singing their own brand of rhythmic narrative jubilee style songs, that they were signed to RCA Records where they began recording in 1937.  After appearances on the nationally broadcast NBC radio network, the Gates were brought to New York City to perform on John Hammond's legendary 1938 "Spirituals to Swing" concert at Carnegie Hall.  By 1940, Clyde Riddick had replaced Bill Langford.
The Gates moved to New York City in 1940 where they began a long-term engagement at Cafe Society. There they were seen by President Roosevelt who invited them to sing at his inaugural gala in 1941.  They were invited back to sing at the White House several times.  Throughout the 1940's, the Gates continued making records and even appeared in several motion pictures.  The style of jubilee spirituals that they pioneered became a model for thousands of spiritual and gospel groups that followed.
Since the mid-1950's, the Golden Gate Quartet has been living in Paris and performing worldwide. At last count the Gates have performed in 77 different countries.  They are immensely popular in Europe, singing at packed concert halls and churches and releasing numerous CD's.  This is only the third time the Golden Gate Quartet has sung in the United States since 1957.
The Golden Gate Quartet contains of Paul Brembly, nephew of Orlandus Wilson, and Golden Gate Quartet member since 1971. Paul, a native of Portsmouth VA, has kept the group going since Orlandus Wilson passed in December, 1998.  Also in the group is Frankie Davis, popular Hampton Roads gospel singer who joined the Golden Gate Quartet in 1995 after singing with the Soul Stirrers.  Rounding out the Gates are Thierry Francois and Timothy Riley.  The Golden Gate Quartet's return to sing in Hampton Roads after more than 80 years is truly  a historic event.