Classic Urban Harmony can book a doo wop group for you. We have had considerable experience booking groups. Charlie has booked groups since 1979. We can handle all of your entertainment needs. We can be the emcee, provide internet advertising and publicity, design and make drop cards. We can often get local radio stations to publicize your event if it is open to the public. Our website and FaceBook page are popular with vocal harmony fans and we also have a free email newsletter that goes out every 4-6 weeks to 750 people.
We book groups for museum events, parties, nightclubs, active adult communities, libraries, corporate events, universities, art galleries, weddings, and senior centers.
Here are some rhythm & blues and doo wop groups we frequently book. In addition to being talented and entertaining, most sing acappella, are reasonably priced and are very reliable. We also personally know most of the big name doo wop groups. If there's a specific group not listed that you're interested in booking, please let us know. We have contacts throughout the industry.
5/3 Woodland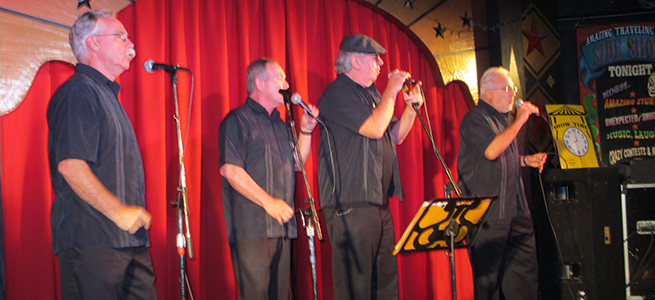 5/3 Woodland is a top notch acappella group from West Philadelphia that was officially formed more than 20 years ago. Actually, the group members started singing way before that on the street corner. They take their name from the street corner they used to hang out on and sing – 53rd Street and Woodland Avenue. Now, so many years later, they are still masters of the "street corner sound". The members of 5/3 Woodland don't just sing, they entertain. Be prepared for some humor along with their harmony.
A Perfect Blend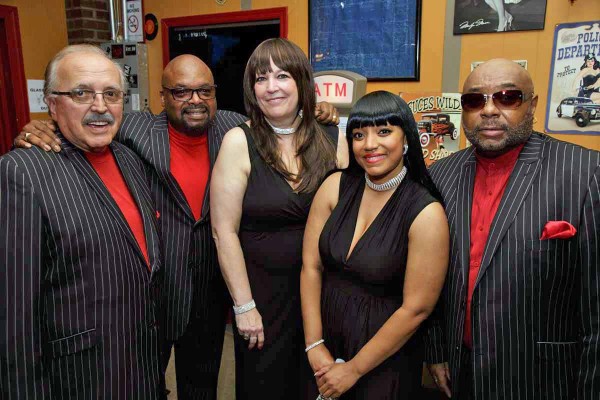 A Perfect Blend is an extraordinary R&B acappella group out of Philadelphia.  They offer a unique combination of both stage presence and riveting vocals.  Their exquisite blend of soul and doo wop vocal harmony has led them to appear at many of the area's most esteemed venues, including New York's Apollo Theatre where they won the talent competition on the nationally televised "Showtime at the Apollo" program.
Grand Central Echoes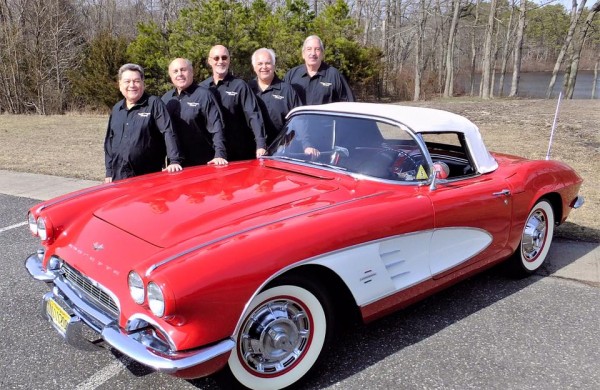 Grand Central Echoes have been around for some time and are largely regarded as one of the area's premier acappella vocal groups. One of their members, Shelly Buchansky (absent from the video below) is a long time member of Vito & the Salutations.
Choice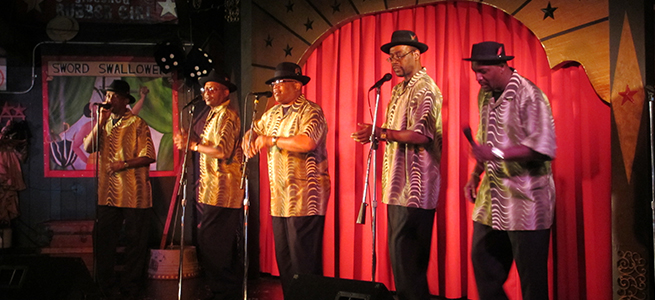 Choice is one of the area's top vocal groups. Choice has a long history of singing acappella. This year members of Choice are celebrating their 35th anniversary as professional singers. They are called Jersey City" Bad Boys of Acappella" but in reality they are one of the hardest working groups on the acappella circuit. They can sing R&B, Doo Wop, Soul & Gospel music with equal proficiency. They were chosen the United in Group Harmony Association's Acappella Group of the Year and recorded for Clifton Records. Choice has performed in places like Nassau Coliseum, Continental Airlines Arena and Radio City Music Hall. A recent video of the group went viral with 6 million hits.
Frankie & the Fashions
This fine Philadelphia based doo wop group has recorded original and cover songs. Their popular song "What Do I Have To Do," written by lead Frankie Lafaro, has become their signature song. They sing superbly and add humor into their performance.
The Larkings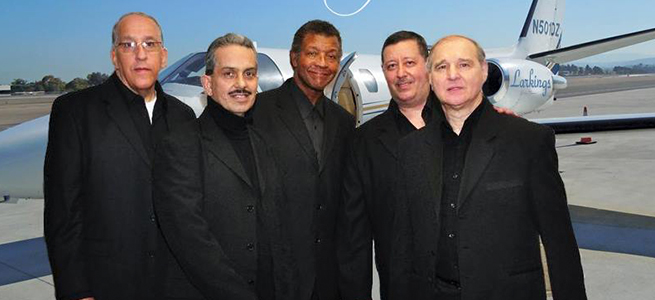 The Larkings are one of areas blue chip acappella vocal groups. They made their debut to singing in 1993 at the United in Harmony Association (UGHA). They specialize in singing the sounds of the Moonglows, Nutmegs and other classic groups. The Larkings have arranged and backed such well known artists as George Grant, Baby Washington, Ruth McFadden, and Chuck Carbo of the Spiders. They won the Lead East Vocal Group Acappella competition.
Original Mixed Company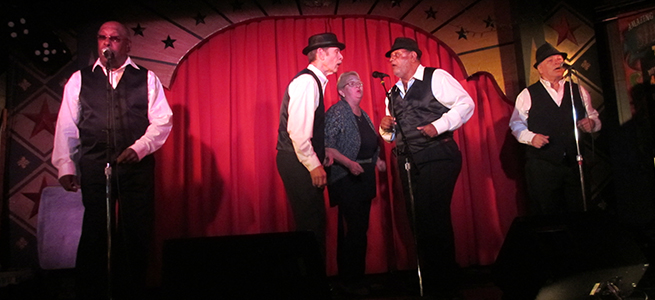 Original Mixed Company is a first class vocal group from Jersey City. You may remember Mixed Company and their earlier incarnation, Patty & The Street Tones from UGHA years back. Well this group is back and sounding as great as ever. On occasion, the group is rejoined by Patty Zielinski, who sings lead on songs you remember such as "I Want to Rendezvous With You" and "Let It Please Be You".
Philly Ringtones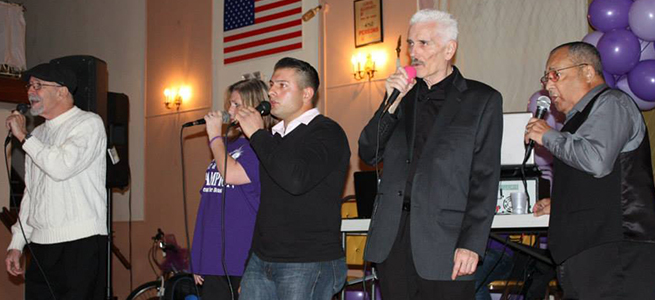 The Philly Ringtones are the latest edition to the areas acappella doo wop music scene but that doesn't mean they are new to singing. The members came together about a year and a half ago with diverse individual backgrounds to create one of the more exciting vocal groups around.
Lisa Parks has sung with the Sweet Adeline's barbershop group and also toured for eight years with Harold Melvin's Blue Notes. Bill Keith has been singing doo wop since the late 1950's with recording groups like the Blendtones, A Moment Pleasure, the Students, and others. Charlie Carson has sung with numerous Philadelphia acappella groups. Gabe Mairone is the youngest member of the group but he grew up with a family of doo wop fanatics. Finally, Jim Bakay has sung with the Street Corner Five, the Copians and Nightlight over the past 20 years.
Quiet Storm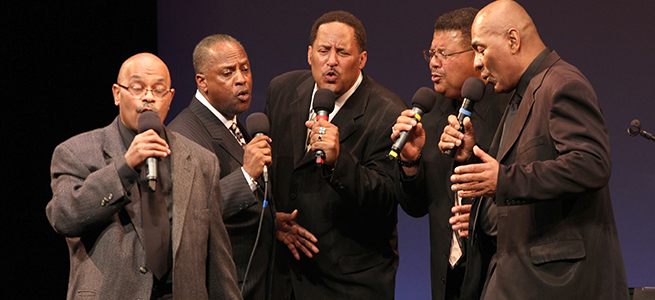 Formed in Philadelphia in 2007, this phenomenal vocal group has taken doo wop acappella world by" storm". They've become favorites at the annual Philly Doo Wop Festival and blew away the competition in 2010 at Don K Reed's acappella showdown outside the IZOD Center. The win gave Quiet Storm the opportunity to open the second half of the Nader Doo Wop Spectacular. Since then the group has built their reputation as one of the area's most dynamic vocal groups. Though Quiet Storm's history as a group spans only the past eight years, individually each member has been singing harmony with other vocal groups for most of their lives. Each sings leads well as background harmony. They sing R&B, Doo Wop, Soul, and Gospel Harmony. Although the groups can sing with a band, their acappella concerts really display their exquisite vocal harmony.
Re-MemberThen

Formed just a few years ago, Re-MemberThen has now emerged as one of New Jersey's doo wop acappella group rising stars. Individually, the group's members have been singing all their lives, though with different groups. As Re-MemberThen, they came into their own at the 2011 Philadelphia Doo Wop Festival where the sang to a huge outdoor crowd at Penn's Landing. Since then, the group has appeared on WMTR-FM's Alan David Stein's "Doo Wop Drive" radio show also recording original jingles for the program. Re-MemberThen has not only become a favorite opening act for Larry Chance & the Earls but backed him in an all acappella set on Monmouth University's huge 2016 doo wop Explosion concert. Re-MemberThen also performed their own set on that concert and Larry Chance made a "guest" singing appearance on Re-MemberThen's recent CD. The Piscataway, NJ, based group's repertoire includes numerous doo wop favorites all sung is splendid harmony. Re-MemberThen has twice won Don K Reed's acappella showdown out side the IZOD Center (2012 &2014) in the two times they competed. As winners, the group got to open the Nader Doo Wop Spectacular at the Meadowlands. Re-MemberThen was also an invited "strolling acappella group" at Lead East in Parsippany, NJ, the "World's Largest Fifties Party".
Still Around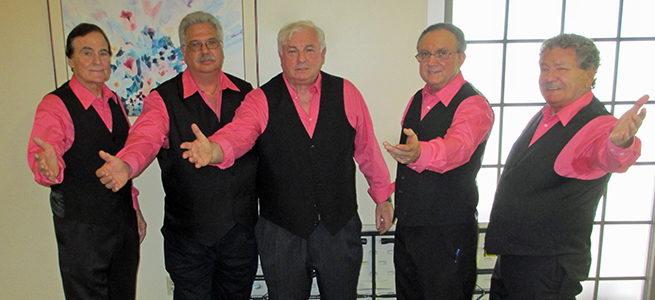 Still Around is an outstanding doo wop acappella group based in North Brunswick, NJ founded in 2009. They were founded at the NJ Doo Wop Harmony Singers Club run by Stu & Pat Pushkin. They sang at the Philly Doo Wop Festival and won Don K. Reed's acappella show down in conjunctionwith the Nader Doo Wop Spectacular show.
The True Devines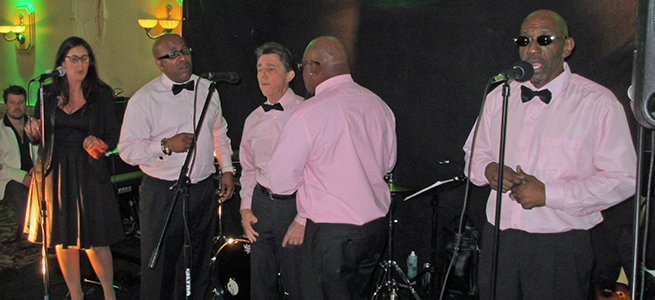 This Jersey City acappella group is the latest to be under the wing of Stan Krause. Stan has a record store in Jersey City called "Stan's Square Records". He also owns the famous Catamount record label. He's known for discovering The Persuasions and 14 Karat Soul. This group was originally called True Image. They sing in the doo wop tradition.
The Tee-Tones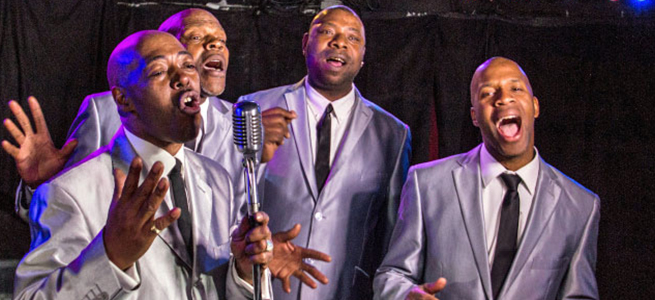 Inspired by the legends of classic Rhythm-n-Blues and the street corner doo wop group harmonies that gave birth to rock n' roll, the Tee-Tones are bringing back that incredible sound we all grew up on. They formed on the street corners of Brooklyn and tunnels of the NYC subway system. The Tee-Tones, formerly know as The Tunnel Tones, represent a long tradition of great r&b acappella soul singing groups that gave birth to doo wop, rhythm & blues, rock & roll, classic soul and Motown. The Tee-Tones have performed many gala events in the tri-state area including private events hosted by Paul McCartney and Motown founder Berry Gordy. They've appeared on Good Morning American, Cosmopolitan Magazine and ABC World News Tonight, and made recordings for as agencies and TV commercials. This popular group sings with passion and style.
The Vic Donna Group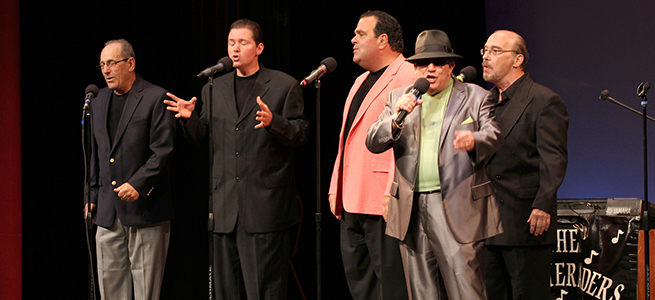 Vic Donna has been singing group harmony since 1956. The Vic Donna Group is known for their tight intricate harmonies of obscure R&B and Doo Wop songs and original music. Over the years Vic has been backed by noted groups such as the Fi-Tones, Parakeets, Cadillacs, Sharps, Compliments, and Angels. The Vic Donna Group has recently added a couple of new singers with loads of previous experience and are sounding as good as ever.